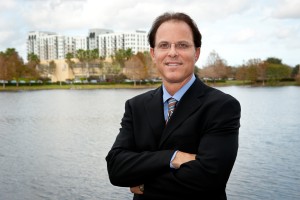 Paul D'Arelli has significant experience in all facets of Florida zoning and land use, including complex urban and suburban redevelopment, and has been involved in some of the largest redevelopment projects in South Florida.  Selected by his peers for inclusion in The Best Lawyers in America® 2013 and 2014 in the field of Land Use & Zoning Law (Copyright 2012 by Woodward/White, Inc., Aiken, SC), Paul represents developers and institutional property owners in land use, zoning, platting, site plan and variance matters before local government agencies.  He also prepares and processes applications for approval of Developments of Regional Impact (DRIs) and DRI development order amendments, secures DRI binding letters from the state, and prepares and implements DRI avoidance strategies.  In addition to developing and deploying project entitlement strategies, Paul regularly represents investors, developers and lenders in conducting zoning due diligence and project feasibility analysis on assets around the State of Florida. He also assists property owners in code enforcement and other regulatory matters.
As the first LEED Accredited Professional (LEED® AP) attorney in Florida and fifth in the United States, Paul was at the forefront of attorneys who recognized the significance of sustainability and green building trends on all aspects of real estate development, operations, and business in general and responded by receiving accreditation through the U.S. Green Building Council.  He routinely assists clients in a variety of green building and sustainability initiatives.
Before founding Florida Zoning Law Group, Paul was previously a Shareholder at Greenberg Traurig where he practiced for almost 14 years and was a partner at Berger Singerman for 2 years.  Paul is also a licensed California General Contractor and has prior experience as a builder.
Admitted to Practice
Education
Master of Laws (LL.M.), Real Property Development, University of Miami School of Law
Juris Doctor (J.D.), with Great Distinction, University of the Pacific, McGeorge School of Law
Bachelor of Science (B.S.), Business Administration, magna cum laude, California Polytechnic State University
Professional and Community Involvement
Board Member, Smart Growth Partnership, 2011 – present
Member, Broward League of Cities – Growth Management Committee, 2011 – present
Board Member, U.S. Green Building Council, South Florida Chapter, 2008
Vice Chair, Land Use and Zoning Committee, American Bar Association Real Property Section, 2006 – 2007
Vice Chair, Hotel, Resort and Tourism Committee, American Bar Association Real Property Section, 2005 – 2006
Trustee Representative, Greater Fort Lauderdale Chamber of Commerce, 2004 – 2009
Board of Directors, Downtown Fort Lauderdale Transportation Management Association, 1999 – 2005
Member, Affordable Housing Committee, Greater Fort Lauderdale Chamber of Commerce, 2005
Team Leader, Broward Days Growth Management Team, 2003, 2004, 2005
Member, Executive Board, City of Plantation Chamber of Commerce, 2005 – 2009
Member, Board of Directors, City of Plantation Chamber of Commerce, 2004
Awards and Recognition
Recipient, "2008 Key Partners" Legal-General category, Award Winner, South Florida Business Journal, September 25, 2008
Recipient, "2007 Excellence in Writing Award for Best Cutting Edge Article -Real Property for Is a Condominium Hotel Really a Hotel? Zoning Regulations Are Evolving to Be Sure (January/February)" presented by ABA Probate and Property, January 1, 2008
Honorary Fellow of the Institute of Green Professionals
Publications
Guides
"Options for Clean Energy Financing Programs: Scalable Solutions for Florida's Local Governments," University of Florida, October 2010
"Energy Efficiency Retrofit and Renewable Energy Programs Using Property Assessed Financing: Florida Guide for Local Governments," University of Florida, June 2010
"Greenhouse Gas Reduction and Energy Conservation: Development Impacts Under Florida's HB 697," University of Florida, Version 2.0, May 2010
Articles
"Green Building Litigation: No Tsunami but the Tide is Rising," Florida Real Estate Journal, March 2010
"Managing Expectations and Risk: Be Clear That Green Building Certification is Not a Proxy for Performance," Florida Engineering Society Journal, March 2009
"Managing Risk in the Sustainable Building Frontier: Ask for a Green Building Rating Guarantee from your Architect and you May get the Keys to the Store," Sustainable Land Development Today, November/December 2008
"Redevelopers Beware – San Francisco's Green Building Ordinance is LEED on Acid," AR Selects Green Blogs, Architectural Record, October 24, 2008
"Selling and Governing the Green Project: Owner Risks in Marketing, Entitlement and Project Governance," Real Estate Issues, Published by The Counselors of Real Estate, Volume 33, Number 3, 2008
"Is the Condo Hotel Really a Hotel?," Urban Land, (Volume 66, No 5), May 2007
"Is a Condominium Hotel Really a Hotel? Zoning Regulations Are Evolving to Be Sure," Probate & Property Magazine, January/February 2007 Vol. 21 No.1
"When Redevelopment is Opposed, All Should Know the Rules," Daily Business Review, May 21, 2004
"Developing within a CRA: Signs of a Healthy CRA Should be Focus of a Prudent Developer," Urban Land, (Volume 2, No 10), October 2003
"Florida's Growth Management A+: Will it Make the Grade?," Land Use Law & Zoning Digest, August 2001
"Entering the Construction Services Industry in Mexico: Laws Affecting Foreign Participation," NAFTA, and Other Concerns, 7 Transnat'l Law. 227 (1999)
Speaking Engagements
Speaker, "Extracting Value from Shopping Center Assets," Alliance of Corporate Real Estate Executives and Specialists, Boca Raton, FL, August 2011
Speaker, "Clean Energy Finance Program Options," Green, Energy & Climate Conference, West Palm Beach, FL, May 2011
Speaker, "Greening the Law: Green Building Litigation, Green Leasing, Renewable Energy, Greenwashing, Green Codes and Ethics,"  The Florida Bar, May 2011
Speaker, "Clean Energy Financing – Alternatives and Opportunities for Funding Retrofits and Renewables," Construction Executives Association, April 2011
Speaker, "Kick-Starting the Clean Energy Economy in Florida: Implementation, Tools and Strategies," Conference on Renewable Energy 101 for Housing and Community Development, Institute for Professional and Executive Development (IPED), March 2011
Moderator, " True Sustainability – Creating Value Through Performance," Florida State University Real Trends Conference, November 2010
Roundtable Participant, "DOE Clean Energy Roadshow," Punta Gorda, FL Octobar 2010
Speaker, "Energy: Envisioning a New Future," USGBC Broward Branch Meeting, Fort Lauderdale, September 2010
Speaker, "Clean Energy Finance Program Alternatives," Florida Association of Counties, Telephone Conference, September 2010
Speaker, "GHG and Energy Conservation Issues: Comprehensive Planning Under Florida's HB 697," American Planning Association Florida 2010 Meeting, Tampa, September 2010
Speaker, "Financing of Energy Efficiency Projects – Keeping PACE with Current Initiatives," USGBC Miami-Dade and the Keys Branch Annual Meeting, Miami Beach, September 2010
Speaker, "Community Energy Financing Options as a PACE Alternative," ICLEI Florida State Network Meeting, Sarasota, FL, July 2010
Speaker, "Greenhouse Gas Reduction and Energy Conservation," Comprehensive Planning Under Florida's HB 697, Planning Officials Workshop by University of Florida Program for Resource Efficient Communities, Largo, FL, May 2010
Speaker, "Intelligent, Green & Sustainable: What Are The Innovators Doing?", RealTech Middle East, Abu Dhabi, February 2010
Guest Speaker, "Realities of Managing Green," Dania Beach, Midgard Management Seminar, June 2009
Guest Speaker, "AB 811 – California's Hot New Financing Tool: A Model for Florida?," Green Cities Florida conference, Orlando, May 2009
Guest Speaker, "Legal and Risk Management in Green Building," NAIOP Virtual Conference, May 2009
Moderator, " Green Leasing," Green Building Finance and Investment Forum, Infocast, San Francisco, March 2009
Guest Speaker, "Managing Risk when Building Green – Entitlement, Marketing, Leasing and Project Governance Issues," Lorman Education Services, Green or Sustainable Construction in Florida Seminars, Orlando and West Palm Beach, December 2008
Panelist, " The Business of Green," South Florida Business Journal/Oracle Seminar, November 2008
Panelist, "The Liability of Building Green," Green Building Initiative/AGC of America Webinar, October 2008
Guest Speaker, "Sustainability in the South Florida Region," Urban Land Institute Public Private Partnership Council, October 2008
Guest Speaker, " Packing a Parachute: Practices that Minimize Risk when Building Green," West Coast Green, September 2008
Guest Speaker, "Green Building & LEED: Legal and Risk Management Issues," University of Miami School of Law, Real Property Development Masters of Law Program, September 2008
Chair and Moderator, "Green Building Finance and Investment Forum," Infocast, New York, September 2008
Instructor, "LEED for Neighborhood Development – A Primer," Florida Chamber Environmental Permitting Summer School, July 2008
Guest Speaker, " Managing Risk for Owners and Developers when Building Green – Entitlement, Marketing, Leasing and Project Governance Issues," Lorman Education Services Hidden Risks of Green Buildings Seminars, Miami and Tampa, May 2008
Facilitator, " Going Green," Marsh's Academy of Risk, May 2008
Guest Speaker, "Understanding NAIOP's Legislative Toolkit for Sustainable Building Ordinance Web Seminar," NAIOP Webinar, April 2008
Guest Speaker, "Go Green?" Commercial Real Estate Women(CREW) Event, February 2008
Guest Speaker, "Risks of Going Green – Managing Risk on Airport LEED Projects," Insurance and Risk Management Conference, Airports Council International, January 2008
Guest Appearance, "Building Green," Community Crossroads, Ion Media Network, November 2007
Moderator, "Miami-Dade Does Green Affordably Symposium," Miami, November 2007
Lecturer, "Going Green: Legal and Risk Management Issues," University of Miami School of Architecture, October 2007
Moderator, "What Mixed Use and Multi-Family Developers Want: Design Clients Share Green Expectations," Green & Design Conference, October 2007
Participant, "Green Building Roundtable," National Law Journal, September 2007
Guest Speaker, "Building Green: It's Not a Fad," Broward Chapter of the American Planning Association, September 2007
Guest Appearance, "Going Green", NBC 6 News, September 2007
Guest Speaker, "Mall Makeovers: 321 North, A LEED ND Pilot Project," Developer Conference, September 2007
Guest Speaker, "Green Building & LEED: Legal and Risk Management Issues," University of Miami School of Law, Real Property Development Masters of Law Program, September 2007
Instructor, "Basics of Green Building and LEED; Legal and Risk Management," Greenberg Traurig Continuing Legal Education Webinar, September 2007
Guest Speaker, "Green Building & LEED: Issues for Contractors and Subcontractors," Construction Executives Association, August 2007
Instructor, "Sustainable and Conservation Based Development," Florida Chamber Environmental Permitting Summer School, July 2007
Guest Speaker, "Green Redevelopment: Sustainable Development Issues and Options for Local Government Officials," FAU Institute of Government, June 2007
Guest Speaker, "From Green to LEED and Everything in Between," ULI Design Trends Conference, June 2007
Panelist, "Condominium Hotels," IMN Condo Hotels Symposium, Orlando, April 2007
Lecture, "Best Practices in Community Revitalization," Florida Chamber Growth Management Short Course, February 2007
Panelist, "Condo Hotels 101," IMN Condo Hotels Symposium, Las Vegas, December 2006
Guest Speaker, "Issues: The Broward County Transportation Tax," WPBT Channel 2, July 2006
Guest Speaker, "Affordable Housing," Comcast Cable, March 2006
Panelist, "Land Development Entitlements: The Other Piece of the Brownfields Puzzle," Florida Brownfields Conference, October 2005
Guest Speaker, "Affordable Housing," Comcast Cable, September 2005Guest Speaker, "Affordable Housing," Comcast Cable, February 2005
Guest Appearance, "Florida Newsmakers," CNN/Comcast Cable, December 2003
Guest Speaker, "Broward Days and Growth Management," Comcast Cable, February 2003
Lecture, "Permitting of the Diplomat Resort: A Case Study," University of Miami School of Law Graduate Program in Real Property Development, 2002